Download Minecraft PE 1.20.0.1 APK free for Android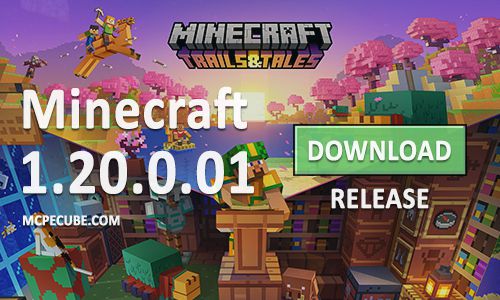 Download the full version of Minecraft 1.20.0.01 on your device to enjoy all the new features and functions that were previously in test updates. New biome, archeology, new mobs, and items are already available for players.

What's added

Added everything from test builds. Let's highlight the main:

• Archeology: new blocks and decorative elements.
• New location: Cherry Grove Biome.
• Bamboo Wood: Various blocks can be crafted from the material.
• Hanging signs.
• Sniffer: Generates in the world along with plants and its own egg.
• Armor Patterns: Ability to decorate any equipment, as well as add flags to shields.
• Camel: can be used as a vehicle to ride with a friend, has its own behavior and animation.
• Carved bookshelf: can be used as a decoration with the ability to add Books.
• New musical accompaniment.
• Calibrated acoustic transducer with phases.
• Improved vibrations and added resonance.
• Head to the mobs and play sounds through the music block.
• Unique achievements.

Innovations

In this latest update, have successfully implemented all the previously announced changes from beta versions. Let's take a moment to review the key highlights:

• The Smithing Table can add Armor Patterns and upgrade to the Netherite variant.
• Now you can create the most powerful armor at the Smithing Table.
• Lots of server interface improvements.
• New background image for the main menu.
• For the game on iOS devices, a function has been implemented that offers to search for games available on the local network. This means that one can easily find and join multiplayer sessions with other players in the player's immediate vicinity.

Fixes

More than 90 updates were in the version. Here's what's new:

• Loading worlds occurs in accelerated time.
• Vibrations work better and radiate from objects correctly.
• Fixed search for local worlds on different devices.

Technical update

• In the technical part of the game, about 80 innovations have been added that improve the work of developers of various modifications.

This version has a bug

The developers were unable to fix the bugs of connecting to the old worlds More:

• For the Boats to work properly, they need to be broken down and rebuilt.
• Mobs will land from Boats.
Tagged:
1.20.0.1
Android
APK
Download
free
Minecraft